On The Market: Historic converted grist mill in Lehigh Valley for $549K
---
Posted: July 11, 2017 by

Leah D'Angelo
---
On The Market: Historic converted grist mill in Lehigh Valley for $549K

by Shannon Rooney, For Philly.com @sionnan | shannonmrooney@gmail.com

Neil Agble and Frank Lombardo live and work in New York City but a weekend trip to Bucks County cast a spell on them.
"The area has a magical, rustic beauty that resonated with us," Lombardo said.
After staying with a friend who had renovated an old mill in Bucks County, they decided to look for a country home in neighboring counties.
"We loved seeing the old stone farmhouses and the many creeks and rivers," Lombardo said. "Having grown up in England, Neil found a certain nostalgia in the Old Europe look of many of the structures."
When they set about finding a country home in the winter of 2001, they were interested in a property that would be just far enough from home and work.
"We both live in New York City and wanted to find a property that is a close enough drive from the city for a weekend getaway and yet far enough from the hustle and bustle," Lombardo said.
When their realtor showed them a converted grist mill built in 1762 and currently on the National Historic Registry, they knew it was perfect.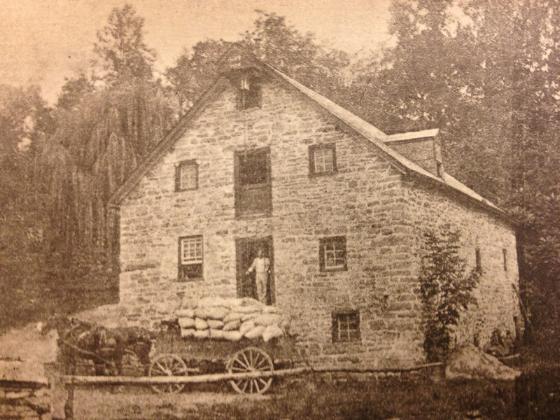 "It was love at first sight," Lombardo said.
The four-bedroom, three-bathroom home was renovated by previous owners whom Lombardo said were careful to maintain as many of the original details as possible.
"The old wheelhouse remains in the lower level of our property and the grist wheel itself adorns the back yard," he said.
The property also includes the original, stream-cooled dairy house as well as a horse barn with a recently added studio above it.
Lombardo said he and Agble have enjoyed fires on the lower level of the property, but they have largely enjoyed the grounds and the creek.
"During the spring and summer months, Neil and I tended to spend a lot of time outside enjoying the beautiful landscape," he said. "We loved having friends over for BBQ and relaxing in the hammock, listening to the sounds of Fry Run."
Lombardo said work for him and for Agble has recently become more demanding, making weekend trips to Bucks County nearly impossible.
"We have decided that it is time for someone else to enjoy the Mill," Lombardo said.
The property is listed with Art Mazzei at Addison Wolfe Real Estate for $549,000.
Click here to view the full listing >>